Here is my favorite lasagna recipe.  It is an adaptation from a recipe found in "The Art of Raw Living Food" by Doreen Virtue and Jenny Ross.  Like many living foods "cook-books" this contains a bunch of beautiful and delicious recipes…but…most of them are extremely high fat.
You can read about the health aspects of raw food diets and the importance of a low fat diet at Perfect Health.  What we are going for is and 80/10/10 diet.  This means that 80% of the calories are from carbohydrates, 10% from proteins, and 10% from fats.
And so, here is a low fat version of raw lasagna that you can have on a daily basis without over eating on the fats.  It contains 1/8th of the fat in the original recipe.
You can eat this lasagna fresh, or you can dehydrate it slightly in the sun or in a dehydrator (3 hours).  You may need to pour out some excess water.  I personally like it better slightly dehydrated, because it is a little warm and the tastes blend better.
Feel free to experiment with the recipe.  You can exchange the cashew for macademia or other nuts.  You can exchange the dates for some other sweetener, etc…
Raw Lasagna Recipe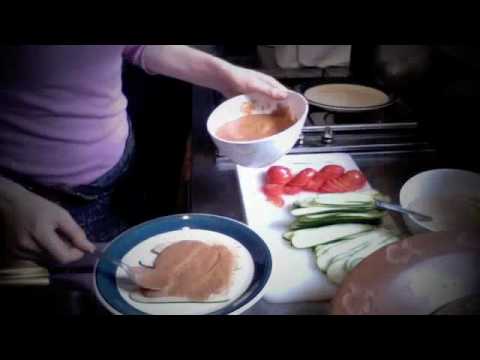 The Red Lasagna Sauce
6-8 tomatoes
4 sun-dried tomatoes
2 cloves of garlic
4 de-pitted dates (or some sweetener)
7 fresh leaves of basil
2 tablespoons of Italian Herbs
Mix all ingredients in a high speed blender until you create a smooth texture.

The White Lasagna Sauce
1/2 cup of cashews or macademia nuts
1 small zucchini
2-3 tomatoes
2 cloves of garlic
4 de-pitted Kalamata Olives
1 peeled lemon
Mix everything in a high speed blender until a creamy texture is achieved. If the zucchini is too large the sauce will become too runny.  You may add some more nuts and maybe use the extra sauce for wraps or other dishes.

The Raw Lasagna Plates
4 small zucchinis
4 tomatoes
The plates are created by cutting the zucchinis with a potato peeler.  The tomatoes are cut very thinly with a regular knife in order to add more taste and texture between the layers of zucchini plates.
Start with a layer of zucchini, then the two sauces and tomatoes and continue.  Place red sauce on top and splash with white sauce.
In order for the lasagna to hold together better be sure to orient the zucchini layers in a crossed pattern (see in the video above).
Enjoy!!