Here is a really simple, yet quite tasty recipe for a low fat raw vegan desert.   But there's a catch.  It is all really simple only if you have the right tools.  In this case you will need a handy little apple corer.  If you don't have one… well then you will just have to become more creative.  I have actually done these cream filled bananas with a cork-screw.  It took a bit more work, but in the end it was worth it.  I would love to hear if you come up with any other creative hole making tools.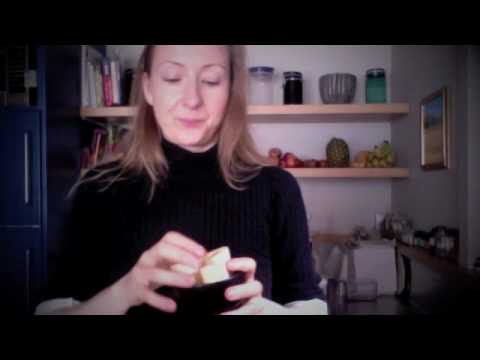 Cream Filled Bananas Recipe
2 thick bananas
1 small banana
1 teaspoon of almond butter
some cinnamon
Peel the two thick bananas.  Cut the in the middle.  Use a thin apple corer to make a hole through the bananas.  Plug the end of the banana and stick a tooth-pick through it so that it does not fall out.
Take the cored middles and add the small banana.  Add the almond butter and the cinnamon.  Mix until it becomes creamy.
Fill the bananas with the cream.
Enjoy!
Nutritional Information:
Totalt calories: 347 kcal
87 kcal / filled banana piece
85% carbohydrate
5%  protein
10% fat
Psst….  Don't forget!  Put a tooth-pick, party umbrella or some other creative device at the bottom the the banana so that it all stays together.