Here is how you can make your own healthy body oil, or body butter.  This is a sweet, spicy coconut scented body oil that has become my favorite.
Your skin often absorbs more than if you were to eat something!  What you put on your skin, goes into your body.  And so, a good rule is to only put on your skin things that you would not mind eating.
This body oil recipe becomes a body butter if you store it in a cool place.  If you want it more solid, you can add more coconut butter.
A tip for the first time you make it is to store it in a jar (see how I store it  in the picture).  This way, if it solidifies you can still get it out.  It it remains liquid, you just pour it out.
Also, if you find that it does not absorb as fast as you would like it to, you can exchange the oils.  There are oils that absorb better than almond and macademia oils.
Play around and find your own favorite.  Add the oils and essential oils that make you the happiest.
Spicy Coconut Body Oil Recipe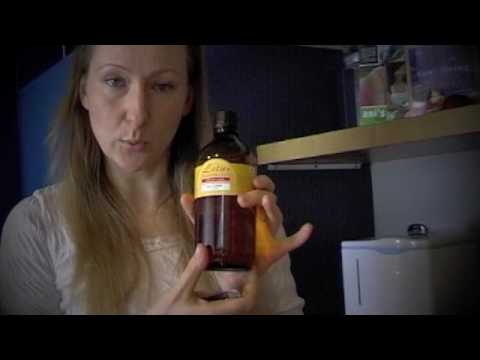 4 tablespoons melted coconut butter/oil (the type that smells like coconut)

4 tablespoons macademia oil
4 tablespoons sweet almond oil

4 drops sweet orange essential oil

4 drops sandalwood essential oil

4 drops frankincense essential oil

1/2 teaspoon of liquid Vitamin E (or contents of 2 capsules of Vitamin E, 500 units)
Mix everything and store in a closed jar.
For best results: Use when you step out of the shower, once you have dried off.  Massage it into the body.
Let me know in the comments how it works for you or if you have any favorite body oil that you make!